Our full-body cryo chamber, which we affectionately call the Arctic, will expose your body to short blasts of cold air with temperatures from -160 to -220°F. In the span of 2-3 minutes, your external body temperature will be down to about 50°F. Brrrr! Since the Arctic delivers these cold bursts in a completely dry environment, you'll exit feeling chilled. Your body, however, is hard at work keeping your internal body temperature up, which will trigger an amazing response in your central nervous system.
Our Goosebumps Cryotherapy staff will guide you through the experience. Whether you want to ask questions about the process or listen to music, they'll make the experience as comfortable as possible and be ready with a warm robe when you're done.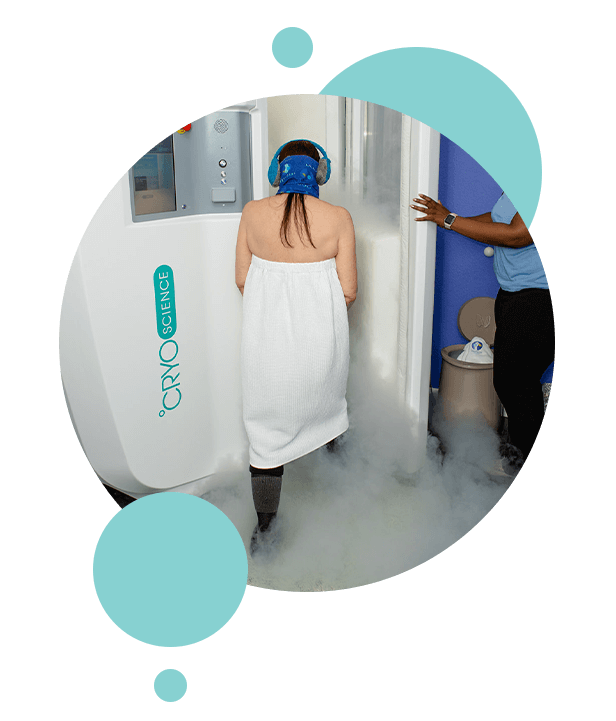 You may be wondering why someone would want to expose themselves to such extreme cold. Cryotherapy must just be for adrenaline junkies, right? Whole-body cryotherapy does release endorphins and give you a natural mood boost, but it's also a great addition to your natural wellness routine.
When your body is exposed to extreme temperatures, your blood is drawn away from your extremities and toward your internal organs. Your blood will pick up oxygen, nutrients, and anti-inflammatory proteins, and when you exit the chamber that blood will rapidly circulate throughout the rest of your body. With the added benefit of decreasing inflammation and joint pain, you'll leave our cryochamber feeling rejuvenated.
book your next cryotherapy experience
Cryotherapy is great for reducing muscle soreness post-exercise, but it can also be used for injuries and chronic pain. If your pain medication just isn't cutting it or you're looking for a natural remedy, cryotherapy can decrease swelling and increase range of motion in the affected area. Add localized cryotherapy  to your whole-body treatment for best results.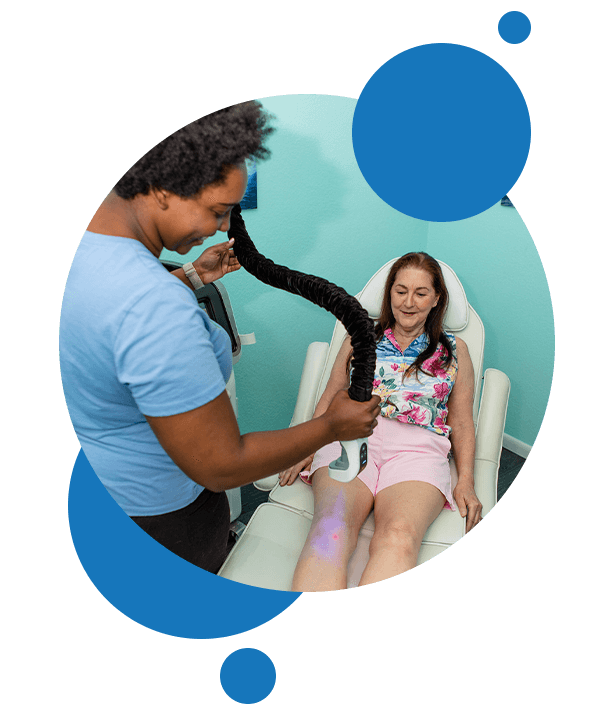 Cryotherapy
for Arthritis
In one study on the effects of cryotherapy for osteoarthritis, 96% of participants said whole-body cryotherapy either improved or significantly improved their pain. Arthritis can affect your quality of life and prevent you from doing the things you love, but cryotherapy can help you experience more good days.
Cryotherapy
for AutoImmune
Autoimmune diseases are caused by an overactive immune system attacking healthy body parts. Whole-body cryotherapy may help slow the immune response responsible for your symptoms since your body's primary focus will be on maintaining body heat. Cryotherapy also reduces inflammation and triggers an antioxidant response in your body. Are you ready to see the benefits of whole-body cryotherapy for yourself? Book an appointment  today, and invest in a pain-free future.
Sciatica refers to pain from the sciatic nerve which stretches from your lower back, down your hips, and into your legs. According to the Mayo Clinic, sciatica is usually caused by a herniated disk or bone growth putting pressure on your sciatic nerve resulting in lower back pain and inflammation. Localized cryotherapy can ease the symptoms of sciatica while you either wait for it to resolve itself or seek treatment from a doctor.
Are you ready to see the benefits of whole-body cryotherapy for yourself?
Book an appointment today, and invest in a pain-free future.
Susana Moreno
The staff here are soooo nice and it's very sincere. The atmosphere is comforting and cozy. The cryofacials are amazing and I can't wait to use the rest of the services they offer. I've never met a staff more welcoming and kind. Very accommodating. EVERYONE should use cryotherapy it's THE BEST!
Barbara Vanderbush
After trying to cope with back and hip pain by using prescription meds and physical therapy, I feel I've finally found my solution. Goosebumps "spot treatments" give me amazing results. Getting better every session!!!
Emily Nowlan
The atmosphere is awesome & they go above & beyond to make your experience the best!
Monica Ann
This place is amazing. I've been dealing with pain since '02 because of a car accident. And I was truly amazed on how one session lasted me the whole two weeks with pain free. I've only been here twice I'll keep going. Steve and Donna are very friendly and informative thank you.
Bethaney Rogers
Super friendly staff, they walked me thru every step and answered all my questions.  Very clean, cute decor, easy appointment booking too. They customize your experience, so it is all about you. Definitely going back.