Cryo T-Shock uses alternating heat and cold to freeze fat cells and stimulate collagen production. Both CoolSculpting and Cryo T-Shock use cold temperatures to eliminate unwanted fat. CoolSculpting uses vacuum pressure that sucks and freezes the skin, causing uncomfortable numbness and tingling. T-Shock, on the other hand, uses a wand that alternates between hot and cold, moving in a massage-like motion that is actually quite comfortable and relaxing.
We provide Cryo T-Shock as a safe and effective way to tone your body and get rid of stubborn fat. We want you to look and feel your best, and cryotherapy can help. If diet and exercise alone aren't getting you the results you want, contact us today. Our friendly staff will answer all of your questions about the process and make sure you are comfortable during your appointment.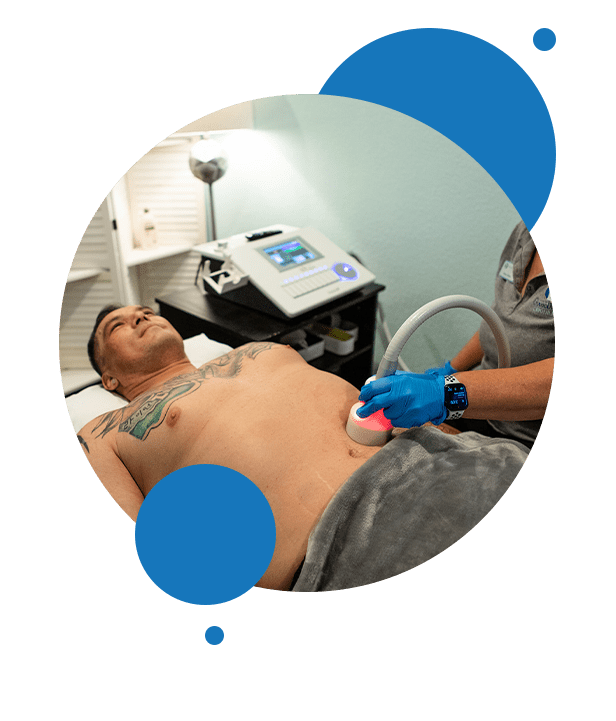 The most common use for the Pagani T-Shock system is fat freezing. We'll start by applying heat to the area you want to tone, then we'll switch to cold for an extended period of time, and finally back to heat. These rapid changes in temperature will shock the fat cells, causing them to die, while leaving your skin and other tissue unaffected. Many may start seeing results
in as little as 1-2 weeks as your body sheds the frozen fat cells following your appointment. This treatment can be safely used on almost any area of your body including arms, thighs, stomach, hips, and even your neck. Follow up with Green Light therapy and body compression for faster, more effective results.
book your next T-Shock experience
Cellulite is a common esthetic issue for women and some men, causing lumpy or dimpled skin in the affected area. Though cellulite is harmless, it can negatively affect the way you feel about your body. Cellulite can often be improved by diet and exercise but can be tough to eliminate altogether. If you are tired of feeling insecure about certain parts of your body, it's time to schedule a T-Shock appointment. The thermal shock you experience during cryoslimming will improve your circulation and cause your body to produce extra collagen. This extra collagen will soften your skin and the increased blood circulation will reduce dimpling from cellulite. Follow up with Green Light therapy and body compression for faster, more effective results.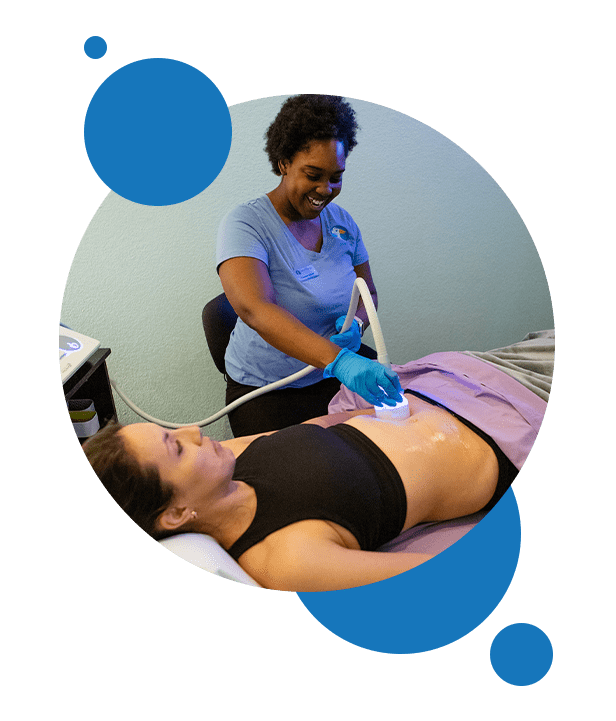 Weight is a sensitive issue for many of us, and some weight loss methods are riskier than others. Rather than relying on an extreme diet or exploring weight-loss surgery, contact our staff about cryo body sculpting. We'll discuss whether T-Shock is a good treatment option for you and answer any questions you have about the process. We've seen clients leave their first cryoslimming session noticeably more toned and feeling confident. You can also combine body sculpting with 3D body imaging, so you can see just how far you've come. It's time to start loving your body again.
Susana Moreno
The staff here are soooo nice and it's very sincere. The atmosphere is comforting and cozy. The cryofacials are amazing and I can't wait to use the rest of the services they offer. I've never met a staff more welcoming and kind. Very accommodating. EVERYONE should use cryotherapy it's THE BEST!
Barbara Vanderbush
After trying to cope with back and hip pain by using prescription meds and physical therapy, I feel I've finally found my solution. Goosebumps "spot treatments" give me amazing results. Getting better every session!!!
Emily Nowlan
The atmosphere is awesome & they go above & beyond to make your experience the best!
Monica Ann
This place is amazing. I've been dealing with pain since '02 because of a car accident. And I was truly amazed on how one session lasted me the whole two weeks with pain free. I've only been here twice I'll keep going. Steve and Donna are very friendly and informative thank you.
Bethaney Rogers
Super friendly staff, they walked me thru every step and answered all my questions.  Very clean, cute decor, easy appointment booking too. They customize your experience, so it is all about you. Definitely going back.